Next

Concert

:

Remembrance Concert

in

St Marks Church, Hale
on Saturday 16th November 2019 at 7:30 pm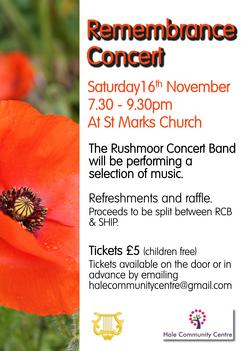 Rushmoor concert band will play a concert to pay tribute to the members of the armed forces who have died in the line of duty.  This will take place in St Marks Church, Hale on 16th November at 7:30pm.
We will play a selection of music including James Blunt's "Your Beautiful"; marches from famour war movies and music from each decade our forces have served us.
Tickets are £5 (children free) and available on the door.  All are welcome.
The Rushmoor Concert Band has a membership of around 30 enthusiastic amateur and retired professional musicians from varying backgrounds, including ex-military players. We perform under the leadership of our Musical Director, Phil Lazenbury. We regularly perform concerts in venues in Fleet, Farnborough, Aldershot and the surrounding areas of North Hampshire.
We play a variety of light and classical music, including music from the shows, jazz, blues and anything else that fits in with a particular event! Our venues range from Band Stands to Concert Halls.
We are a community band and as a charity, rely on the support of our audience members. We believe we offer a value for money, entertaining and musical night out for people of all ages and backgrounds. So come along and support us at one of our future engagements! Or, if you play a brass or wind instrument and would like to play in a relaxed and friendly band then get in touch.